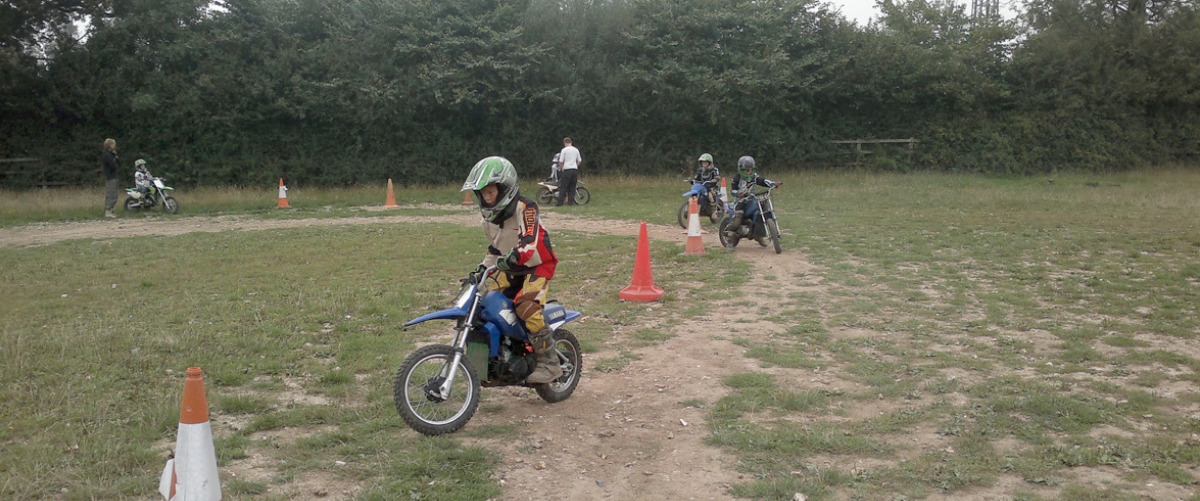 Bookings 2021-2022
                    ----------------------------------------------------------------------------------------------------------------------------------
Chiltern Young Riders conducts training courses and private weekday sessions throughout the year, rain, shine or snow!
There is a lot of information on this page and it needs to be read thoroughly before booking. The forms are contractual documents and are also used for insurance purposes.
Each course consists of FOUR one hour lessons done on FOUR consecutive weekends. All the safety equipment and clothing is provided- we are happy to have the children wear their own as long as it is BS m/cycle approved.
Places are limited at present to only having 5-7 persons per lesson, they are booked on the basis of first come, first served. Bookings should be sent by post to the office address, with a cheque payable to CDB ltd and a signed and completed Booking or Rebooking form. Cheques ARE essential for courses, your bank can supply in a few weeks and at present are free of charge.
Payment and Bookings must be received no closer than 28 days before the start date of the course.  Any cancellations must be in writing BEFORE the 10th of the month preceding the Course start date- ie the date the course cheques get processed.
Details of Private sessions are given at email contact using the enquiry form on the Contact page - please see below
We try to observe office hours when dealing with enquiries, so please don't call after 6pm. 
---
HOW to BOOK
COURSES 
Please make sure you send an enquiry form from the "Contact Us" tab on the website. We will always respond within 24 hrs. If you haven't heard from us by then please call mobile 
07957200471 and speak to Simon. Once it is established that you want
weekend courses 
and not a
private 1-2-1 
you will be asked to send in the forms below.
Please note- if you have a 4yr to 7 yr beginner they will need to have a 1-2-1 private lesson before 

going

 on to join a group of similar ages and or abilities.
If you or your child has NOT attended CYR before then you will need to click on the Booking Form, print it off and send to us at the OFFICE address completed accompanied with the cheque.

If you or your child has attended CYR before then you will need to click on the Re-booking Form, print it off and send to us at the OFFICE address completed accompanied with the cheque. (However, if the last attendance was over one year ago then use a booking form)
If you cannot determine which course or lesson time is available please do not hesitate to email us through the contacts page. You will receive a response within 12/24hrs.
Pupils, once they have completed their first course, will not necessarily be allocated the same day or time on future rebookings- this is why there are no prescribed lesson times on the Rebooking forms. Lessons are made up according to ability and are grouped on that basis.
The Welcome Document below aims to cover the relevant information you need before booking- so please read it.
Booking Form
Re-booking Form
Welcome Document
---
Prices of
Courses
Four week course for 4years to 7 years - £200 ( Requirement first for assessment lesson- see Private lessons below))
Four week course for 8 years to a height of 5 ft 7ins (1.74mtrs) - £190 - Semi-auto bikes and up to Small wheel 85s -
Four week course 5ft 7ins upwards(1.74 Mtrs ) and Level 5 upwards- £230 (needing Big Wheel 85s bikes)
Four week course  KX250F and  YZ 125 - £255. Under 18s. Level 3 upwards
Adults, on BW 85s and 125/250 bikes £255. Level 3 upwards (1-2-1 assessment session prior to joining a course)
Cheques are for courses only and are payable to CDB ltd and please post date to the 10th of the preceding month ( e.g. 10 April for May course)
PRIVATE LESSONS
Private sessions are booked by emailing an enquiry form, then a booking form and Bacs payment.
PRIVATE WEEKDAY 1-2-1 SESSIONS - email to enquire- 75 or 105 mins slots.
These do change day to day and need booking with minimum delay to avoid disappointment.
Weekday private lessons (which can include maintenance instruction) - Age and experience dependent-please email for pricing- airbag priced separately

Please Note there are no slots available on Oct half term 24-28
---
Please note courses are NOT transferable and the cancellation policy is in writing at the latest by 9th of the month preceding the start of the course.
Please note if a rider becomes over-tired we reserve the right to stop the session in the interest of safety.
COURSE DATES/Group Lessons and AVAILABILITY

Weekend Courses 
Private 1-2-1 available throughout term-time weekdays and booking Oct half-term now- dates and times to be arranged by email.

Oct first weekend off  1st and 2nd Oct-- no riding
Oct 8th/9th to 29th/30th - Full.
Nov 5th/6th to 26th/27th- FULL
Dec - NOTE three week course 3/4th to 17th/18th Booking now- £150 L1>3,   £175 L3>6 , 125cc/250cc £195- booking now
January 2023 Course dates- 7th and 8th to 28th and 29th. Booking now.