GCSE PE MX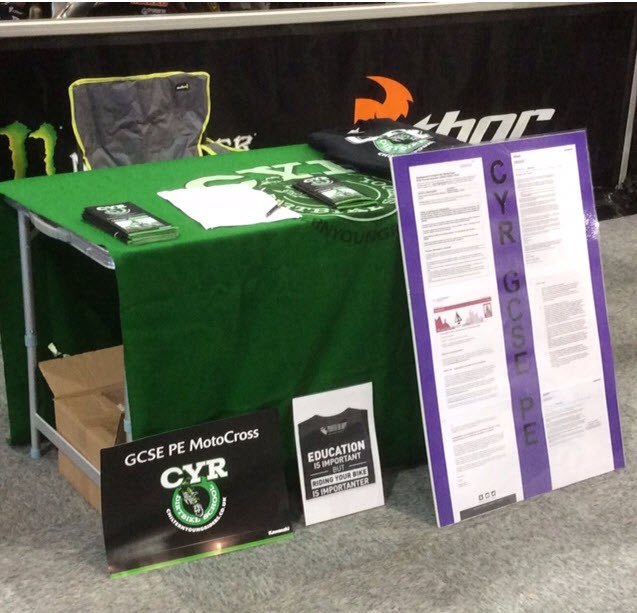 CYR have lobbied for the inclusion of Motocross to the GCSE Physical Education syllabus activity list. We are pleased to announce that the first pupils will be following the criteria for the activity from January 2015.
Five schools have signed up in the small window of October 2014 and more will be following when the application window reopens in April 2015.
The Government, Police and the motorcycle industry all accept and are trying to promote two wheels as the way forward. Not only from the fact that motorcyclists make better motorists, in and out of a car, but also because half bike accidents are caused by other road users.  There is discussion on how to include bikesafe learning into the school syllabus. Well, GCSE PE MX is a fun, exciting sport that delivers fitness and inherent machine handling before the student ever gets near the road. It provides opportunities to reluctant students to immerse in an activity that totally appeals and has "street cred". A lot of kids aren't team players so this helps them achieve in a sport that can give them a long life time of exercise and which can lead on to a safer transport system for all road users.
BikeSafe
BikeSafe is another initiative towards training riders in the handling of their machine
BikeSafe – Off Road Skills is a joint initiative between BikeSafe, the motorcycle road safety arm of the Police and Kawasaki Motors UK, delivered by Chiltern Young Riders and other Kawasaki Experience Partners. The objective is to improve the safety of motorcyclists on the road, by employing the skills learnt by riding off the road.  After successfully completing the one day course, riders will receive an accreditation certificate from Kawasaki and BikeSafe.
The 'Post Test Skills Day' can be carried out with a number of Kawasaki Experience Partners at locations throughout the UK, using the very best off road Kawasaki machinery. Tuition will include the following skills, all of which directly translate to riding on the road.
Fine brake and clutch control
Riding on slippery surfaces
Body positioning
Ascent and descent control
The scheme is available to all full licence holders at £200, BikeSafe riders and Kawasaki Riders Club members will benefit from a 10% discount.
This off road skills day is not only guaranteed to improve your road riding, it will also be a lot of fun even in the wet or snow!
A roadbike licence holder trying mud for the first time!